GreenStar™ Single Slider windows are widely regarded as one of the best styled windows in the industry. GreenStar™ Single Slider windows are capable of flexible tilting to make cleaning the window a breeze. The triple weather stripping on the sash ensures maximum efficiency and comfort in all climates, particularly given the reliable neoprene bulb seal on the sash. In fact, the neoprene bulb seals have been integrated into the frame to provide a tight seal. The contemporary design and the colonial finish give our
vinyl windows
the appearance of hand-crafted windows. The innovative glider system provides ease of operation and protects the weather stripping from wear and tear. The instant locking shoe provides stability to the sash as it tilts for cleaning purposes. The sliders come in two styles, single and double slider.
Double slider windows
allow you to slide both sides along the track and tilt both for cleaning purposes. The GreenStar™ Single Slider window is a smart choice for those looking to maximize their glass area and minimize the frame visibility.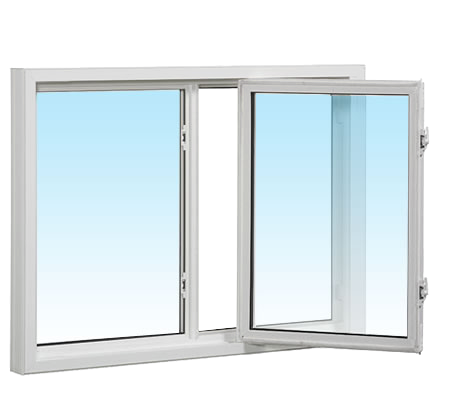 7/8″ thermoglass with insulating warm edge spacer
Optional Low-E + Argon for maximum efficiency and UV protection
External screen, removable at your convenience
Top Benefits of Single Slider Windows and where to Install them
Ventilation: Single slider windows are very good in terms of ventilation. Though only one sash can be opened horizontally, it allows for a great amount of natural air into any home.
Easy To Clean:
Single Slider
replacement windows
are very easy to clean. Once a sash is moved, any homeowner could do some thorough cleaning of the sides of the windows, and even in between the windows.
Clear View: Unlike many other kinds of windows, single slider windows do not obstruct the view in any home. They create a very clear view for any homeowner who does not have any intention of going outside to get some view, rather a homeowner could get some quality view from the inside of their home without being obstructed.
Easy To Maintain: Single Slider replacement windows are very easy to use and maintain. Firstly, they do not have complex parts like other windows. They have just two sashes, and only one can be moved. There is no need to get confused while using it, as even a two year old child can open a single slider window if it is not locked. Also, they can be maintained very easily.
Euroseal offers a great selection of durable, energy-efficient single-slider windows in Toronto. Contact us today to learn more about our assortment.
WHAT OUR CUSTOMERS SAY ABOUT US
We'd Recommend EuroSeal's Services
We damaged one of the external hinges a month ago, and your company's prompt and efficient handling of the service call was impressive! We appreciate how quickly your company sent over a representative to fix the problem.
Couldn't Ask For More
We especially appreciated the help of your craftsman in choosing the appropriate style and colour for our first home. In the end, the windows look beautiful and I'm extremely happy with how easy they are to clean.
Beyond Our Expectations
It is our pleasure to say thanks for a great job done by your company. Luke and his colleague did a lovely job and they were very well mannered. It was a pleasure having them around.
Astonishing Value
We had done our share of research before finally deciding to go with your company and we must say that EuroSeal really had the greatest value. Guess we can chalk it up to working with a manufacturer.
We'd Use EuroSeal Again
It's not everyday that I take the time to email a contractor… but my wife insisted! You guys did a great job and you kept it quick and quiet. We've got a newborn who sleeps often and your man did a good job not waking her up. Cheers.
Knowledgable Pros
We recently moved to our new house and needed to do some repairs and renovations. Your company was recommended by our very pleased friends. The windows look amazing and the installation job Richard did was first class.
Absolutely Great Service
We just wanted to write to say thanks because the window quality is great and your helpful craftsman and professional installers made the entire experience wonderful. We only wish we could have this experience with all of our renovation projects.
Did someone happen to break a window belonging to your house? Are you interested in changing the design or arrangement of the structured apertures in your house for whatever reason?