Our GreenStar™ Bay windows are typically composed of three windows. The two side units are normally
casement windows
, while the middle unit is a large fixed window. Style variations are possible, such as sides that are made of
double
or
single hung windows
, or fully fixed units. The side units of a bay window are normally projected at 45 degree angles, however other projections are available as well.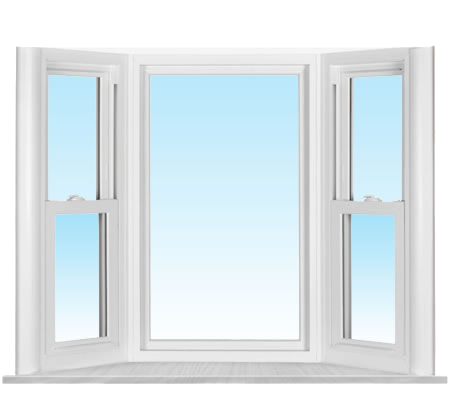 Heavy duty multipoint hardware
7/8″ thermoglass with insulating warm edge spacer
Optional Low-E + Argon for maximum efficiency and UV protection
Full internal screen spring loaded for ease of operation
Benefits of Bay Windows and where to Install them
Add Value to Houses:
These type of
vinyl windows
have a high artistic appeal and not only from inside the house but also from the outside of the house. Inside the house, these windows often add some space to any room together with providing a corner which is quiet for someone to enjoy some time alone studying or having a solitary moment. Outside the house, the glazed-style gives the structure of the building a very clean and relatively modern look.
Bring Natural Light into any House: Apart from offering fascinating views of the outside world, Bay replacement windows bring in a great deal of natural light than any other kind of window. There is always some amount of sunlight seeping into any house because of this window.
Ventilation: Because of the fact that they are a cluster of multiple windows, these windows could be opened outwards, and homeowners can as well enjoy cool and yet fresh breezes as at when they desire.
Versatility: Bay windows were formally always found in most Victorian homes but now they can be installed in almost all kinds of modern households. Bay windows are relatively not restricted to a particular kind of room space. In fact they can be installed in bedroom, study rooms, kitchens, and so on.
Bay Windows are a Great Storage Solution: The seating area which is around a bay window can be used as a storage space. For instance, any sofa with compartments that are hidden or a bench that is tapered with a free room under it can be used as a perfect storage space.
Does looking out a half-moon window on a starry night appeal to you? That's what it's like to have GreenStar™ Bow windows in your home. The unique design is made with the use of at least four windows of equal dimensions. Go with end casement windows that are paired with a set of fixed windows for a dramatic and functional appearance. You can also choose to use only fixed windows if you prefer. For charm and elegance in your rooms, use the bow window design to create the perfect backdrop for a comfy reading nook, or a display of your favorite art objects or plants.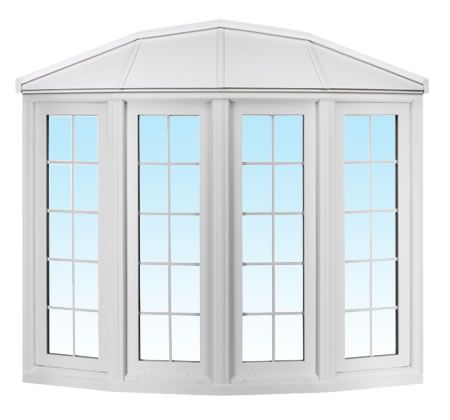 Heavy duty multipoint hardware
7/8″ thermoglass with insulating warm edge spacer
Optional Low-E + Argon for maximum efficiency and UV protection
Full internal screen spring loaded for ease of operation
Advantages of Bow Windows and where they are Frequently Installed
Enhance Room Appearance: If you want to make the inside appearance of your room look bigger, you can install a bow window. It could also enhance the outside appearance of the room. A bow replacement window that stands out from the side of any home and protrudes. It adds a little space, but it gives an illusion that the wall is farther than it really is. Its unique shape does wonders for the general appearance of any house, both on the outside and inside.
Energy Efficiency: Just like bay windows, bow windows are not just beautiful, they are also very energy efficient. As you make use of them, you will be able to save a great deal of fund on your electricity bills. Unlike other types of windows, they help to save energy cost for any homeowner.
Lighting: Bow replacement windows are also advantageous to homeowners in terms of ventilation. Apart from the fact that they enhance the appearance of any room, bow windows Toronto make an enhancement in that element. It is designed or made out of thre panels or more which are fitted together at different angles. This do allow light to enter from each angle also reflecting off each other. The room appears brighter, and very welcoming.
Nice Ventilation: Bow windows tend to offer options of having 2 operating windows which allows the homeowner with his or her guests to enjoy cool breeze from 2 directions instead of one.
Contact us now to discover our full line of top-quality and perfectly designed bow windows in Toronto.
WHAT OUR CUSTOMERS SAY ABOUT US
We'd Recommend EuroSeal's Services
We damaged one of the external hinges a month ago, and your company's prompt and efficient handling of the service call was impressive! We appreciate how quickly your company sent over a representative to fix the problem.
Couldn't Ask For More
We especially appreciated the help of your craftsman in choosing the appropriate style and colour for our first home. In the end, the windows look beautiful and I'm extremely happy with how easy they are to clean.
Beyond Our Expectations
It is our pleasure to say thanks for a great job done by your company. Luke and his colleague did a lovely job and they were very well mannered. It was a pleasure having them around.
Astonishing Value
We had done our share of research before finally deciding to go with your company and we must say that EuroSeal really had the greatest value. Guess we can chalk it up to working with a manufacturer.
We'd Use EuroSeal Again
It's not everyday that I take the time to email a contractor… but my wife insisted! You guys did a great job and you kept it quick and quiet. We've got a newborn who sleeps often and your man did a good job not waking her up. Cheers.
Knowledgable Pros
We recently moved to our new house and needed to do some repairs and renovations. Your company was recommended by our very pleased friends. The windows look amazing and the installation job Richard did was first class.
Absolutely Great Service
We just wanted to write to say thanks because the window quality is great and your helpful craftsman and professional installers made the entire experience wonderful. We only wish we could have this experience with all of our renovation projects.
Did someone happen to break a window belonging to your house? Are you interested in changing the design or arrangement of the structured apertures in your house for whatever reason?
The weekend fixer-upper in you has always wanted to start the process of replacing those aging windows, but where do you start? Do you take a quick gander over to Home Depot or Lowe's to take a look at the window offerings or do you start punching out those old window sills? Well, if you are asking these questions, luckily, we are here. The first step in any window replacement or window installation project is to measure the windows. But, you may be asking yourself, how do you measure windows?